EXPERIENCE
arctic
January 27th 2012 - Written by:
Kelsy
---
Last week, wildlife photographer Florian Schulz transported us to the Arctic through his collection of beautiful images. We didn't even have to leave our seats at The Conservation Alliance breakfast at Outdoor Retailer Winter Market to catch the chill of polar wind, hear the cries of migrating birds and feel our hearts thump as we watched baby polar bears fleeing from danger.
via Chris Kassar and Elevation Outdoors:
Schulz is, John Sterling of the Conservation Alliance told us, "a truly gifted story teller who transports us to places we may never otherwise get to visit."…

He didn't just "wow" us with images or stories of braving harsh conditions (though he did tell some amazing ones about that). His message was simple, clear, and inspiring: "My connection to the environment is something very emotional; it comes from the heart for me especially now that I have become a dad," said Schulz getting noticeably choked up when talking about the arrival of his son in December. "I hope we can keep this planet the way it is for a while longer…. Fighting for this is essential."

On Schulz's website, he says:
"For many years now there has been strong interest in expanding oil drilling in the Alaskan Arctic, both on land and offshore. Many have considered the Arctic landscape a barren wasteland or a flat, white nothingness.

I take these sentiments as a personal challenge to document an extremely remote and mostly unknown area of North America — for a public that otherwise might never see it. It's true that at first glance some areas may seem desolate or barren. But those same areas may be teeming with life just days later, with tens of thousands of migrating caribou, or wolves or grizzlies."
While many of us have never been to the Arctic, as these images show, it's a special, wild place full of life — and worth protecting. Learn more about what you can do to help protect it by visiting alaskawild.org.
ALL PHOTOS © FLORIAN SCHULZ
---
November 3rd 2011 - Written by:
Kelsy
---
"Alaska truly represents the Great Wild of America. For too long we have been swayed by scare tactics and misinformation regarding the preservation of areas like the Arctic National Wildlife Refuge and Tongass National Forest… I cannot stand by and allow Alaska's treasures to be exploited for reasons that ultimately hurt, rather than help our country." — Osprey Packs' marketing director Gareth Martins.
via our friend Ron Hunter at Patagonia:
In the words of President Lyndon B. Johnson upon signing the Wilderness Act of 1964: "If future generations are to remember us with gratitude rather than contempt, we must leave them more than the miracles of technology. We must leave them a glimpse of the world as it was in the beginning, not just after we got through with it."…

Right now, USFWS is seeking your input on this plan for the Arctic Refuge that, for the first time, includes this Wilderness recommendation.

If Americans speak with a loud and united voice, we can send a strong message that USFWS can't ignore. Please speak up for the Arctic Refuge by signing a letter to Secretary of the Interior Ken Salazar asking him to protect the coastal plain of the Arctic National Wildlife Refuge as Wilderness.
Please go to the Alaska Wilderness League Take Action page to sign the letter.
For more information: www.alaskawild.org
PHOTO via Ron Hunter, Patagonia
---
July 6th 2011 - Written by:
Kelsy
---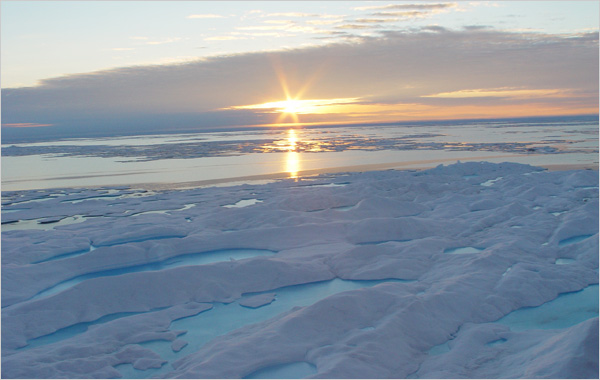 The Arctic is one of the most beautiful and forbidding places on Earth, where temperatures regularly plunge well below zero and the time between sunset and sunrise is sometimes measured in months rather than hours. Despite these difficult conditions, a variety of people and animals have adapted to thrive at the top of the world. The Arctic is home to many of our nation's most iconic wildlife species: polar bears, walrus, ice seals, bowhead whales, beluga whales and more. Facing pressures of climate change and industrialization, a bottleneck for survival has been created in the Arctic Ocean, ultimately threatening wildlife and putting Arctic
community's subsistence way of life at risk.
These same conditions are also a recipe for disaster in the inevitable event of an offshore drilling accident.
(more…)
---
March 9th 2011 - Written by:
Kelsy
---
Over the last week, a video has been making its way around the internet — Polar Bear: Spy on Ice. Shot mainly using spy cameras, this film gets closer than ever before to the world's greatest land predator.
Icebergcam, Blizzardcam and Snowballcam are a new generation of covert devices on a mission to explore the Arctic islands of Svalbard in Norway. Backed up by Snowcam and Driftcam, these state-of-the-art camouflaged cameras reveal the extraordinary curiosity and intelligence of the polar bear.
ARVE Error: no id set
Watching this footage is funny, intriguing and at the same time bittersweet. Polar bears are losing their arctic home — searching for ice in a place that used to be covered in it. If we want to ensure that polar bears still roam in the arctic, we've got to take action. It's up to our generation to do what's right and save these majestic and iconic animals.
Tell President Obama to protect America's Arctic here.
Take action to reduce your climate impact. Here are some easy ways to get started.
Photo via
---